Today we went to Pittsburgh for Genetic Counseling and my Level II ultrasound. We most definitely found out the sex.
Without a doubt.........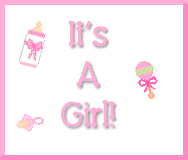 She gave us the "money shot" right away. No boy parts between THOSE legs, I'll tell ya!
The Level II ultrasound was so neat.... the lady measured every little thing on the baby. We got to see the face up close, the hands, feet, and even the ventricles of the brain and the valves of the heart. It was amazing and I could have watched that screen forever. The baby flipped over halfway through the ultrasound and was kicking her little legs... it was so cute! I couldn't feel the kicks at that point, but I can only imagine what I'll be feeling when she gets bigger and stronger!
Well, I'll write more later. It's been a long busy day, and I'm WORN OUT.